A strong foundation
SalesHawk® is built from three layers of technology that are fully-integrated and harnessed to address your key sales challenges.
Application layer: The fundamental pillars of the SalesHawk experience: Smart Workflow, Sales Intelligence, and Sales Resource Automation®

AI core engines: Xference® patented artificial intelligence

Knowledge bases: Data, content, and knowledge repositories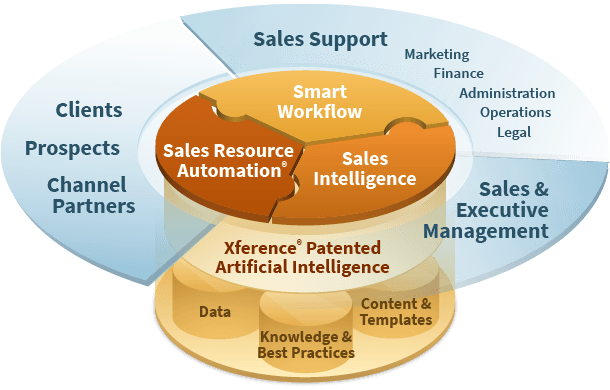 The SalesHawk platform
An intelligent sales platform is a unified, coherent system that provides a framework in which business processes, strategy, knowledge, and history live, interact, and are given meaning in a collaborative work environment shared by all stakeholders.
XFI's patented AI decision engine, Xference, lies at the heart of the SalesHawk platform. Xference employs both crisp and fuzzy logic to make intelligent estimates about what the user is seeking and to formulate appropriate responses. Intelligence can either be explicitly defined (business rules) or empirically defined (learned from user activities).
Applications
Fed by data, knowledge, and content, Xference powers Smart Workflow, Sales Intelligence, and Sales Resource Automation. Applications built on a common platform simplify customization per business unit and facilitate the sharing of corporate information and workflow.
Smart Workflow
Regulates interactions among stakeholders to optimize sales transactions and awareness.
Sales Resource Automation
®
Manages the dynamic generation of selling materials that combine corporate branding and marketing guidelines with content customized to the special needs of the client.
Sales Intelligence
Tracks and monitors sales progress, identifies business opportunities and threats, and facilitates predictive modeling.