Software as a Partnership
®
SalesHawk® is provided as a subscription-based "Software as a Partnership." This unique business model provides a full complement of ongoing services for a predictable annual subscription fee. Other models cost more, both initially and over time, as they require significant resources to avoid becoming outmoded and unusable. SalesHawk evolves with your changing business needs, ensuring your unique competitive advantage is sustainable over a long time horizon.
Benefits of Software as a Partnership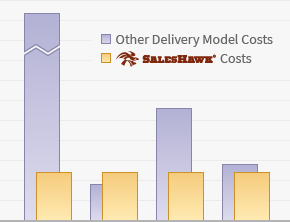 Predictable annual subscription fees
Deployment in timely and cost effective manner
Provisions for unlimited number of users
Minimal internal support requirements
Quick responsiveness to changing business requirements
XFI service support for unexpected business needs
Benefits and payback within first 6–12 months
Other models have high initial costs and require significant time and expense to adapt their solution to your business needs. SalesHawk starts as a customized solution at an off-the-shelf price and then continuously adapts to your changing business needs for a predictable annual price.
Software and service components
Software as a Partnership encompasses a number of unique software and service components, including:
Hosted application software and knowledge databases
XFI takes full responsibility for installation, configuration, and maintenance.
Dedicated versions
Each professional unit has its own dedicated version. Versions run on the same base platform. Information can be shared across versions to facilitate corporate awareness and streamline workflow.
Continuous customization
Regular and frequent small releases add new functionality or modify existing functionality, ensuring that software versions, data, and content are always relevant and in step with your needs.
Business knowledge repositories
Business rules, best practices, product-client relationships, scoring algorithms, and other stored knowledge is retrieved by XFI engines and used to intelligently identify, recommend, select, compare, or justify items on basis of user input.
Product information libraries
Product literature, catalog, pricing, product features and benefits, graphic images, and competitive product information is captured from internal sources, industry sources, or XFI research services and retrieved by XFI engines for use where contextually appropriate.
Corporate research and content libraries
News, awards, accolades, financial information, customer logos, and general research on customers and prospects is captured from internal sources, industry sources, or XFI research services and retrieved by XFI engines for use where contextually appropriate.
Operational support
Bundled services include user management, account management (transfers, realignment), custom report generation, and training.
Service commitment
Services include a commitment to provide all the necessary resources to support the sales process. Should software fall short, XFI will provide delivery in an alternate form until the appropriate software can be built and deployed.