SalesHawk
®

for Manufacturing

SalesHawk for Manufacturing is a sales enablement platform that facilitates the dependent relationships in the sales ecosystem, including: end-user customers, dealers, and channel managers; front-office marketing and sales managers; mid-office sales operations and finance; and back office support staff and internal data systems.

As a platform, SalesHawk provides the essential infrastructure to enable business processes, strategy, and knowledge to thrive in a collaborative environment. The SalesHawk platform incorporates proprietary technologies specifically designed for sales and financial operations. These technologies are integrated into a single systematic, holistic environment, which is then adapted to each manufacturer's specific business needs.

SalesHawk simplifies integration and data sharing with back office legacy systems. Using a highly configurable technology, real-time or repetitive batch jobs can be created that fetch or send information between SalesHawk and other partners.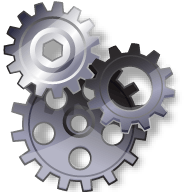 Proprietary Technologies
XFI proprietary technologies include Sales Resource Automation®, Smart Workflow, Sales Intelligence, Xference® (artificial intelligence decision engine), and Advanced Knowledge Bases. SalesHawk modules are customized to each manufacturer's needs.
Sales Resource Automation
®
Manages the dynamic generation of selling materials that combine corporate branding and marketing guidelines with content customized to the special needs of the customer.
Smart Workflow
Regulates interactions among stakeholders to facilitate sales transactions and awareness.
Sales Intelligence
Tracks and monitors sales progress, identifies business opportunities and threats, and facilitates predictive modeling.
Knowledgebase
Integrates business rules, best practices, and product knowledge to provide sales information, govern business processes, and optimize corporate resources.
Xference
®

Artificial Intelligence Decision Engine

Delivers data, content, and knowledge to provide sales reps with the right information at the right time for the right purpose.
Examples of Key Benefits
SalesHawk helped increase a Fortune 500 manufacturer's win-rates, drive down the cost of sales operations, and improve the overall performance of the organization. SalesHawk is credited with adding hundreds of millions of dollars to this manufacturer's bottom line.
Sales Team
31% increase in the average number of accounts managed by sales reps
12% increase in win rate
Reduced start-up time to less than 3 months for new sales reps to meet incumbent goals
Financial Team
60% of deal volume now is handled through an automated approval process
20% increase in total deal volume
Allowed analysts to focus on high volume/high revenue relationships
Sales Team
30% increase in gross margin retained
Comparative analysis allows more efficient use of incentive dollars
Quality control and business rule enforcement ensured consistency and conformity with best practices
Financial Team
Flexibility in customizing product offerings and financial metrics improved the accuracy of financial reports
Analysis of historical customer purchase behavior supported the relative value of each customer relationship
Product-level profitability reporting (by sales rep, region, and customer) provides multi-dimensional views of customer relationships
Sales Team
20% reduction in sales and support staff
Sales efforts customized to needs of client
Reduced requirements for additional resources
Financial Team
28% increase in efficiency of back office processing
Extensive reporting and analytics improved financial accounting and internal reporting